Although Africa is not generally known for its abundance of skyscrapers, it has undergone a building surge in many cities. A number of tall buildings has been seen growing  significantly throughout the continent over the last few decades.
The Carlton Center in South Africa has for the last four decades held the pole position as Africa's tallest building despite not being featured even among st the top 100 skyscrapers in the world.This however will soon change following recent projects currently underway set to take away the title of buildings in Africa. The Bank of Africa Tower, in Morocco is an example of such like buildings that will set the pace in being among the tallest buildings in Africa.
South Africa ranks high by hosting five of the top ten tallest buildings in Africa including the Carlton which is the tallest, Ponte City Apartments 173m, Marble Towers 152m, The Pearl Dawn at 152m and The South African Reserve Bank 150m
Kenya also joined the top 10 group in having tallest buildings, with the completion of 31-storey Britam office tower that stands 200m tall and carries the distinction of being the second-tallest building in Africa. The building that starts at its foundation as a square rotates gracefully up to the 30th floor at 45 degrees, forming a prism with different floor sizes. It is the regional headquarters of Britam East and Central Africa. It has an office space of approximately 32,000 square metres. It will additionally be able to accommodate 1,000 cars in its swanky 12-storey car park.
1.Carlton Centre, South Africa
The Carlton Centre located, downtown in Johannesburg, South Africa, ranks the tallest building in Africa since 1973 at 223 metres with 50 floors
The skyscraper was designed by the US architectural firm Skidmore, Owings and Merrill. Construction began in 1960 by demolishing the old Carlton Hotel and the closing roads to form a city superblock and officially completed in 1974.However occupation of the Centre began in 1971.
The design of the tower matches that of New York's One Seneca Tower in Buffalo which was completed in 1973.
2.Britam Tower Kenya
Britam Tower, was build as a commercial tower and is owned by British-American Investments Company. the skyscraper has a maximum height of 195 metres, above ground, with 32 usable floors. It is the second-tallest building in Africa by pinnacle height at 200 m (660 ft).
The building is the international headquarters of Britam. It features a unique prismic shape that starts as an equal four sided square footprint and ends with a two sided roof with a 60 metres (197 ft) mast, containing three helical wind turbines.
Britam Tower has a total of 350,000 square feet (32,516 m2) of office space to let for commercial purposes.The building has an attached 12 storey Car Prk that can accommodate up to 1,000 vehicles which caters to its many tenants.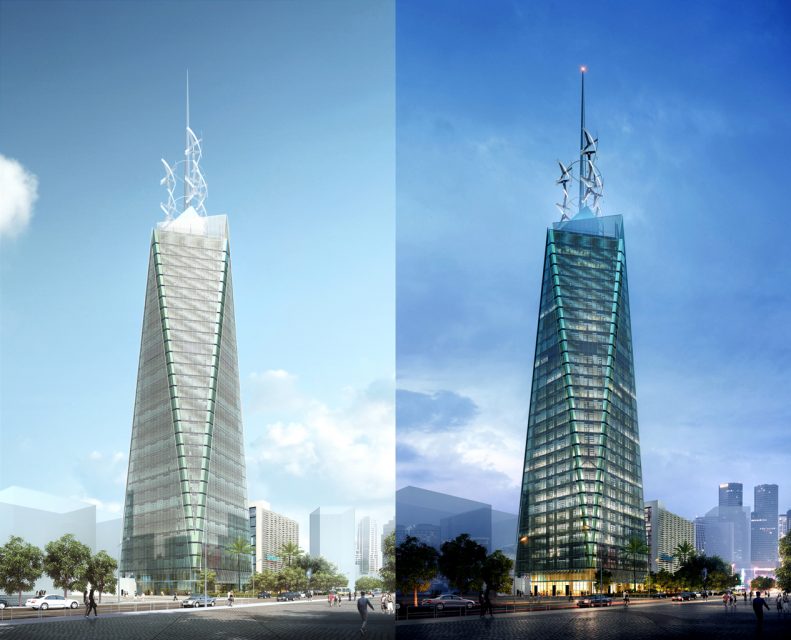 3. Ponte City Apartment, South Africa
Ponte City is a skyscraper in the Berea neighborhood, just next to Hillbrow, Johannesburg, South Africa. It was built in 1975 to a height of 173 m (567.6 ft), making it the third tallest residential skyscraper in Africa.
The 55-story building is cylindrical, has an open centre dubbed "the core" allowing additional light into the apartments and rises above an uneven rock floor.
Ponte City was designed by Mannie Felman who worked closely in a team together with Rodney Grosskopff an Manfred Hermer. It is also the first cylindrical skyscraper in Africa.
The building was designed by Grosskopff in such a way that it allowed light to enter the apartments from both sides through a hollow interior. The bottom entails retail stores which had initial plans of including an  indoor ski slope on the 3,000-square-metre (32,000 sq ft) inner core floor.
4. UAP Tower, Kenya
UAP Old Mutual Tower is a 33-storey office complex in the Upper Hill neighborhood of Nairobi, Kenya owned by UAP Old Mutual Group, a financial services conglomerate headquartered in Kenya, with subsidiaries in six African countries.
The tower, which is also the second-tallest building in Nairobi at 163 m (535 ft) financed through private equity at a total of US $40,000,000 as of (2015). It has rentable space that measures 29,000 square metres (310,000 sq ft), and will also house the UAP Old Mutual Group headquarters once it is completely finished.
5.NECOM House, Nigeria
Nigerian External Communication House (NECOM House) is a skyscraper located in Lagos by a Ghanaian architectural company, Nickson Borys, Partners and built by the British company, Costain Group, famous builders of the Dolphin Square Apartments in London and the Dubai International Airport.
NECOM House is a 32-story building, houses the headquarters of NITEL which at the top of the tower and serves as a lighthouse beacon for Lagos Harbor.  The building was completed in 1979.
6. PSPF Tower, Tanzania
Located in the East African region, Tanzania is the Tower A and B PSPF Twin Towers standing at 153 metres (502 feet) tall with 35 floors.The buildings which have a postmodern style began its construction in 2011 and completed in 2014. The towers were officially opened for business in 2015.
This building and construction proposal was a winning design in a competition for design of a mixed urban development in the heart of Dar es Salaam City. They were built using concrete glass and steel by Hatmy Engineering.
Each floor has been well designed to accommodate shopping facilities, residential apartments, luxury hotels, cinemas halls and office spaces for rental. It has  offices, retail stores and parking garage.
7.Marble Tower, South Africa
Located in joburg's central business district at 499ft, the Marble Towers is a skyscraper built in 1973 and is 32 storeys tall. The building's structure is made out of a mixture of concrete and marble and has an eight-storey parking garage attached to it. The tower is in use as commercial offices. Marble Towers is the eighth-tallest building in Africa by pinnacle height at 152 m.
8.Pearl Dawn, South Africa
Pearl Dawn is located in Durban, South Africa.It was opened in 2010 and ties with Marble Towers at 499feet with 31 floors. The residential building was marked as a lush option for residents of South Africa with a has a futurist architectural style with a dark blue facade colour.
The Pearls is a spectacular residential resort offering luxury apartments and penthouses. Construction of The Tides and Dawn were successfully carried out and recognized as one of Durban's most prestigious Holiday Apartments attracting influential clients, as well as holiday makers.
 9.South African Reserve Bank Building
South African Reserve Bank Building was built by Burg Doherty Bryant + Partners, the South African Reserve Bank Building and is situated at number 370 Stanza Bopape Street (previously Church Street) in the nation's capital.
The building is the tallest in Pretoria and also the the first flush-glazed glass tower block in the Southern Hemisphere. It was completed in 1988
Architects together with a specialist from the USA and input from the PG Glass Company in South Africa designed the curtain walls. The building also has a a stainless steel, non-representational sculpture "Untitled" by Johan van Heerden which was specially commissioned to complement it.
10. Metlife Centre, South Africa
The Metlife Centre is a 28-floor, 120-metre-tall (390 ft) modernist skyscraper situated opposite the Cape Town International Convention Centre in the City Bowl area of Cape Town, South Africa.
The  Centre Tower has a 22m tall spired antenna on the building's roof that was lifted into place by a helicopter just prior to its completion in 1993.
Follow Chrisdon Homes Limited